Unbreakable quality stays forever.
For MG it is always looking for some new challenges. Long time ago we already had the idea to make our own model mudguard.
Looking at the previous one made of fiberglass we thought this could be much better.
Heavy use on the beach makes the mudguard very fragile.
We now have the improvement!
Features
* Made of high density polyethylene.
* ± 4 mm thick.
* Total weight 1000 gramm.
* Fits between forks with distance 25 cm till 32 cm.
* Fits forktubes till Ø32 mm.
* Rubber splashguard.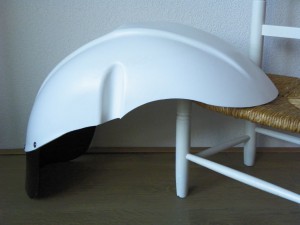 * Available in black and white.
* Easy to drill in, so mounting modification to other models possible.
* We expect it will fit lots of models but we have to find out soon.
MG Supra, MG Aero, MG Aerobic, MG CrooZer, Xxtreme Apexx Xxtreme xxracer, GT Race, GT Rapide, Libre Majestic, Libre Dragster, Libre
Protask, Tornado, Virus,
Available in black and white version
€ 60,-
Ordering by sending email
Unbreakable quality stays forever.