Supra the Rolls Royce of the buggys.
During the time we build the Aero we listened to the users.
We noted their comments and incorporated into a new model.
The Supra is not a successor to the Aero but an addition to the range of MG buggys.
The first kitebuggy in the market which is designed with some force simulations and calculations.
MG places its products again to a higher level.
Features
* Oversized looking frame
back axle Ø 60 mm
downtube 60×60 mm
sidebars Ø 38 mm
* Double sidebars, upper and lower for maximum stiffness
* Back axle height adjustment, 3 positions
* 100% straight backaxle mounted with clamps
(easy to switch for carbon axle)
* Flat footpegs including braces and closed ends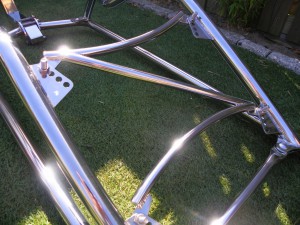 * Footpegs rotation lock system
* M20 headstock/steering with ballbearings
* Strong fork made of a single tube and reinforcements

* New seat with reinforced sides for the spreader
* NEW!! Sidebar width adjustment 44 – 45 – 46,5 – 48 cm
* Screwable cross including backrest
* Angle adjustment of the fork, -5 and + 5 degrees
Complete mounted frame only, just 28 kg
Complete assembled buggy, 52 kg
Total heightadjustment 120 mm
Backaxle 1520 mm
Max length 1993 mm
Min length 1763 mm
Steering angle adjustment 55-60-65 degrees
Sidebarwidths 44 – 45 – 46,5 – 48
No nonsense with options.
Here some extra information about the moundting for the Supra.
The lower sidebars are fixed between the downtube and the backaxle.
The upper sidebars are mounted on the lower sidebars, these are in widht adjustable.
The order of mounting the first time is therefore.
1) downtube to lower sidebars.
2) lower sidebars to backaxle (assymetric)
3) cross which determines the width.
4) upper sidebars on lowersidebars and seatbelt tube.