New generation winddriven machine.
Besides first classe kitebuggies we think it is also time for a new discipline.
We want to look further then the classic blowkarts and make some giant steps.
The MG vertical is high quality stainless steel construction. All designed and well thought in 3D.
We also offer the option to supply the yacht with bigfoot wheels for all kind of beaches.
Features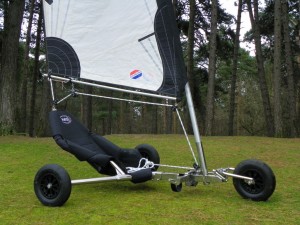 * Fits the 5,6 mtr classe rule
* Relaxed and strong seat
* Good balances construction frame
* Heavy duty made with big diameter tubes but still light
* Mechanical polished for shiny look
* Fast dismountable to 4 parts for easy transport

* Easy switch to bigfoot fork
* Length adjustable in horiozontal frame
* Heelbraces for safety
* Aluminium anodised mast in two or three parts and boom
* Strong sail made of Dacron
* Optional race sail made of Mylar
* Sail sizes 6,0 – 4,5 – 3,0 mtr